"Geblüt - Positionen zum Design" Exhibition (Design/Curation/Organisation)



The exhibition "Geblüt – Positionen zum Design" was a student project developed under the direction of Prof. Hermann Weizinger and Prof. Jorg Hundertpfund for the 20th anniversary of the Product Design Department at Fachhochschule Potsdam. It was on show in Villa Schöningen from the 21st of November 2013 till the 16th of February 2014.

The exhibition's overarching concept was "ennoblement" of alumni, accordingly titled Geblüt (family blood). The dated German word Geblüt was once used both to refer to the cumulative amount of blood circulating in the body as well as to a noble ancestry.
Eigensinn (
strong-mindedness
)
Relevant alumni works were exhibited in six thematic rooms: Eigensinn (strong-mindedness), Exhibition (exhibition), Serie (series), Technik (technology), Transport (transport) and Eigenmarke (own brand). Each room presented the curated objects alongside short interviews with the respective designers, giving the audience insights into the designer's principles, processes, and, ultimately, facilitating an academic discourse about design.
The powdery pastel tones of the rooms, inspired by the color schemes common to noble houses, were chosen as a way to underscore the overall theme. The interviews were printed on wallpaper banderoles where certain words and phrases were highlighted. The visitors could choose to approach the wallpaper banderoles to read the full interview or to focus on the accentuated parts and create direct references to the objects.




The exhibition architecture supports the respective themes of the rooms. The objects in the strong-mindedness room all stand on singular platforms, referring to author design without a specific client.
Whereas in the room series the objects are placed together on a long, linear platform, symbolysing the conveyer belt. Then, in the transportation room, the models of innovative mobility concepts are presented on a floating "street".
The platforms are seen as part of the architecture and not as independent objects. Small ledges behind the objects are suggested back boards giving a reading and running direction. Shadow gaps at the bottoms create lightness and let the platforms appear less monumental.

Serie (
series
)


Exhibition (exhibition)




Technik (technology)




Transport (transport)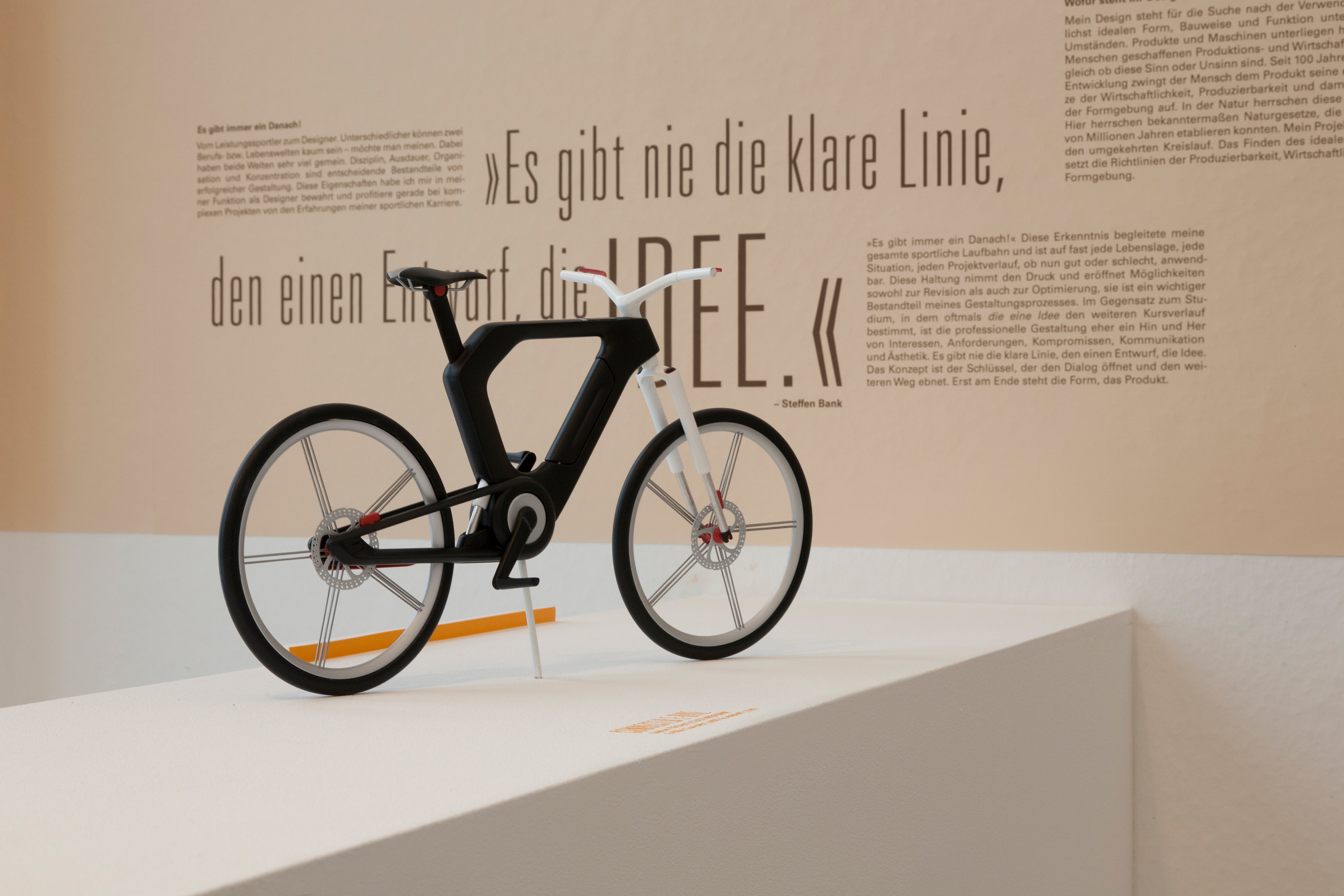 Eigenmarke (own brand)


Exhibitiondesign | Concept | Curation:
Tobias Bihlmeyer, Bastian Braun, Iona Dutz, Ivo Erichsen, Lennart Franz, Amadeus Fronk, Clara Keseberg, Eva Lechner, Jana Marlene Lippert, Carl-Friedrich Richter
Grafics: Iona Dutz, Amadeus Fronk, Eva Lechner
Villa Schöningen: Ina Grätz (Direction), Jos Brons (Assistent of Direction)

Photocredits: Eva Lechner